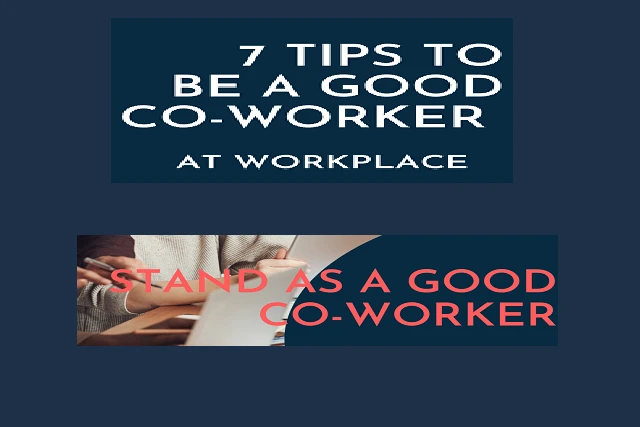 If you follow the 7 – workplace rules given in this blog, definitely you will become an admirer of others.
Do you have the traits to be the best colleague at the workplace? Want to know how to stand as a good co-worker at the workplace? What traits you have to have to be an all-time favorite for all in your office?
It is said that you have the freedom to choose your friends, but not the co-worker. The co-worker is the person who works with you at the workplace. Here the question is how good you are as a co-worker at the workplace? And how to stand?
Whether you are at the beginning of your career or representing many people as a team leader, the success of your career also depends on what your colleagues think about you? How do your colleagues view you?
How To Be A Good Colleague At Workplace:
The question is why is it important to have a good rapport with a colleague? Research says that having more differences or hostility with a colleague has an opposite effect on both work enthusiasm and efficiency.
Not only this, in order to do your work better at times, you also need good credit and support from colleagues. The moment you understand how your nature can affect others, from then on, you not only start behaving courteously but also try to improve your equations with your colleagues.
7 – Workplace Rules To Be The Best Colleague:
I am sharing some such methods in this article that will help you to be a good co-worker in the eyes of others and hope you will benefit and can also give your advice through comments:
1. Praise Others Not Yourself:
Even if you do a great job, your colleagues will not like that you keep praising yourself. It is better to talk about your likes and dislikes than to talk about the likes, dislikes, interests, and studies of colleagues. But be careful not to interfere in their personal life. Appreciate their good ideas and suggestions.
2. Make A Good Start:
Start your day in the office in a good way. Giving good morning or namaste, etc. with a smiling face makes the atmosphere comfortable.
It is said that if the beginning of the day is good, then the whole day becomes good. You should also try to start your day very well. Do not ignore peer mail or phone calls. If there is a good match, please reply.
3. Be In Clean Look All Time:
It is better to look clean with good accessories or wearing neat and clean clothes. Keep cleanliness around your desk and seat and wear clothes cleaned and pressed.
As far as you try, do not eat anything on the desk. Keep removing extra files and paper etc. on your desk. Your colleagues will also like open space with you.
4. Control Your Emotions As Far As Possible:
Having a good relationship with a colleague does not mean that you keep telling everyone about your personal happiness and problems. In particular, the office is not the right place to discuss family problems.
Your Emotions are your best friends, so do not let your emotions come out in front of anyone like this. Take care of them.
5. Help Others As Much As You Can:
You spend more time with your colleagues than with your family. As far as possible, develop the nature of helping colleagues. This habit of yours will make others your wish. Especially your attitude should be friendly with juniors.
It may be that they are already there before you during the job shift. If anyone wants to get advice from you, then give good suggestions to them.
6. Reduce Noise And Try Not To Have Any Problem With Your Work:
Whether you are talking on the phone, taking files out of the box, or typing, the high noise of your desk can interfere with the work of the person sitting on the side seat. And if others are having a problem due to any of your work or anything about you, then this is not good at all.
7. Avoid Gossiping:
If you do not want people gossiping about you, then it is better that you do not become part of the gossiping of others. When faced with such a situation, change the subject, and just start doing your work.
Gossiping in the office is preferred by people who are lazy. Therefore, make a habit that you will not do gossiping in the office at all.
Conclusion:
Friends today, I have discussed the 7 – Workplace Rules. If you like this, then make a comment and tell me how much you liked this article. Do share on Facebook, Twitter, and Instagram.
Anyway, if you remain a good colleague, then others will try to be like you by looking at you. And if you are working on a big post, then it becomes very important for you to take care of others.
If you want to ask anything then you are free to comment in the box definitely I will answer your query.