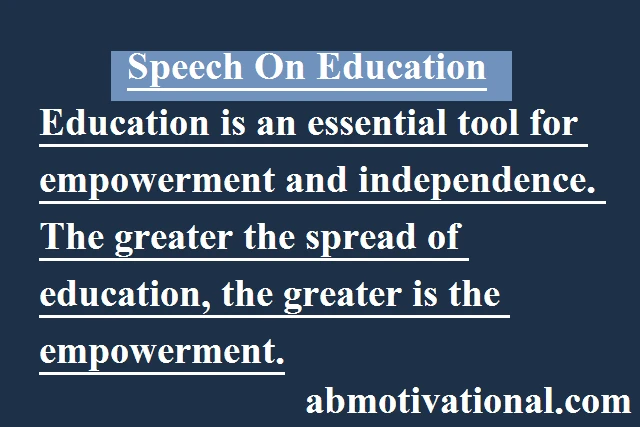 Respected Principal, my dear teachers, and dear friends and classmates, my greetings and best wishes to all of you. I am feeling fortunate today that I have got this auspicious opportunity to express my views in front of all of you on speech on education.
We live in a society where we feel safe. You and all of us have complete freedom to live the life we want. We can go anywhere during the day or at night.
But have you ever wondered how we can live so fearlessly? How can we, night or day, visit our friends and family? And how do we all live in love with each other?
There is a very simple answer to this – education. Yes, you heard it absolutely right. Education itself has played an important role in getting us rid of all kinds of fear today. So let's start our speech on education.
Society becomes civilized by education and people become good and learn from a civilized society. As a civilized society, we have made a lot of progress with the changes.
Speech On Education In India
Due to the lack of education, the British kept our country India as a slave for a long time. When we became slaves or rather when the British came to India, at that time there was a lot of illiteracy in our society, only a few people could get an education or could say, could do.
At that time there was not much promotion of education. Due to which the people of our country used to be simple. Even when we got independence, a large population of India was illiterate. Only a few were able to get educated because of their special circumstances, access, privileges, or struggles.
This was the time when education was seen as a luxury in India. And it was not available to everyone. It was only for people belonging to a certain class, caste, or community or who could manage to afford it.
Untouchables did not have access to schools due to class and caste discrimination. India finally achieved independence after a long battle with the British.
Today, when the New Education Policy-2020 has been implemented in our country, it is enough to tell how much the condition of education has improved in our country.
Today, education up to class-8 in the country is provided under the RTE Act, which in the New Education Policy-2020 has a provision to increase it from class-8 to class-12.
Now you don't have to walk miles to get an education. Among all of you people, there are many people sitting here whose school or college is very close to their house.
Now education is not given on the basis of gender, class, or caste, but education is now provided through campaigns like Sarva-Shiksha.
Last But Not Least
Education is an essential tool for empowerment and independence. The greater the spread of education, the greater is the empowerment.
Even today it is seen that there are restrictions in many areas especially on girls taking education. If we talk about making society civilized then it should apply equally to all. Civilized means everyone, not only girls and only boys.
Women especially need to be empowered in today's highly consumerist society.